In most places, it gets cold enough during the Winter to warrant putting the bikes up for at least a few months.  There's all sorts of things to take care of like maintaining battery health, fluids, etc. but it is also important to think of whether you want the bike off the ground during the Winter.  There are countless accounts of motorcycle tires developing flat spots after sitting for too long.  You can of course move the bike periodically but if you're like me – you don't think of it that often when it's not riding season.  What's the solution?  Get yourself a good set of motorcycle stands.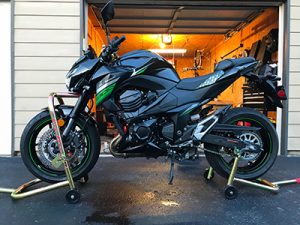 Of course there are numerous options out there, but if you don't want to come out to the garage one day and find your bike on it's side – don't take chances with cheap imported crap.  Even within the quality brands, there are multiple options so look at some of my earlier blogs for help in deciding which stand is right for you.
For the sake of brevity, we'll assume that you have a Suzuki GSXR600, Yamaha R6, or Yamaha FZ-09.  A lot of bikes these days have spools so the stand you'll use for any of them could be the same stand(but is not always).  This rear motorcycle stand is an excellent choice for its space-saving design.  The handle goes forward instead of behind the bike and allows you to save space in an often-crowded storage area.  There are a variety of front stand options, but the most preferred method seems to be this front motorcycle stand, which lifts the bike from the hole in the lower steering stem.  Not all bikes have these holes, but most do.  You'll need to make sure you get the right pin for your bike in order to protect your bike from damage, but that is usually not a difficult process and the pins are usually included with the stand when you purchase.
Even when you have a great set of motorcycle stands, you'll still want to try to put your bike in a relatively low traffic area for Winter.  If possible, store it in a semi-climate controlled environment or at the very least – away from the exterior door.  Often times, up north snow gets shoveled/plowed up against outer doors and/or the outer walkways/roadways will get salted to deal with ice.  All of these things will be bad for the corrosion resistance of both your motorcycle and your motorcycle stands.  Do yourself a favor and be overly cautious rather than taking the "it'll be okay" approach.  Once you come out to find your zinc plated bolts are oxidizing, it's already happening.  Everything made of steel will eventually rush, but we don't need to rush that process.